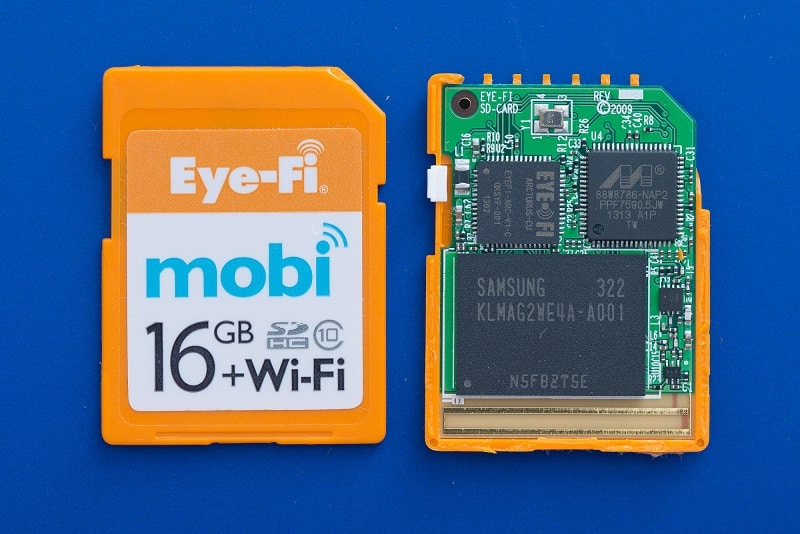 Most cameras on the market today come equipped with Wi-Fi and the capability to easily retrieve your photos from your camera and share them using your smartphone. But what about photographers that are using older cameras with no wireless connectivity?
Eyefi, a leading provider of products that connect digital cameras to the Internet and across multiple devices, recently released a series of products and services for photo hobbyists. The company serves as a leading hub for digital photography, regardless of the type of device you are using including a simple point and shoot camera, a Digital Single Lens Reflex Camera (DSLR), a wearable camera, smartphone, or any other type of camera.


Eyefi products are designed to be a photographer's companion with a line of products that provide a convenient ecosystem that allows photographers to engage in great photography. The products also enhance sharing and remove limitations by allowing photographers to access and share photos from anywhere and at any time.
What Exactly is Eyefi?
Eyefi provides a digital photography platform and a line of products that enhance the process of capturing, accessing, and sharing photos across a wide variety of devices. The products provide hobbyists with a fast and easy way to work with photographs. The products include the Eyefi Cloud, Mobi SD card +Wi-Fi and apps, and Eyeful Pro X2 card.
The newest products are the Eyefi Mobi apps and Eyefi Cloud. The products have received high ratings from major reviewers such as Forbes, Digital Camera Review, PCWorld, Bloomberg, The Verge, USA Today, Engadget, Macworld, and many others. Eyefi began back in 2006 with the launch of its wireless SD cards at a time when most people were not yet using tablet PCs and smartphones.
The following video provides you with a quick overview of what Eyefi is all about.
 An Overview of Eyefi Products
When Eyefi first launched its SD cards, they were designed to provide an easy way to transfer your photos directly from your camera to your PC. In recent years and with new technologies, the company has redesigned its products to meet the needs of the mobile consumer. Instead of sending your photos directly from your camera to your PC, Eyefi products allow you to transfer images to your mobile device without having to use your PC as the middle man.
The products are designed to accommodate those that like to store photographs on a tablet PC or smartphone. Photos and videos can be automatically sent to your mobile device using an Eyefi SD card as a hotspot.
Mobi SD Card Features
Using the new Mobi SD card, it is possible to transfer your photos to your mobile device as you capture them. The Mobi card is designed to work with any Android, iOS, or Kindle device and works similar to a standard SDHC (Secure Digital High Capacity) card.
The Mobi card works with a wide variety of cameras and has built-in Wi-Fi capability that allows your camera to communicate with your mobile device. As soon as you capture a photo or video, it immediately appears on your PC, tablet, Mac, or smartphone.
The Mobi card does not require any setup other than downloading a simple app. Then you can immediately connect your camera to the device of your choice. As soon as you have established a connection, you can begin taking photos and videos.
SD Card Storage: The Mobi SD card is offered in a variety of storage options which include 8GB, 16GB, and 32GB of storage space. All storage options offer different capabilities than the Eyefi Pro X2 card which we will discuss later in this article. Prices for the Mobi SD card start at around $50 for the 8GB option and vary according to where you make your purchase.
Wireless Transfer: The Mobi SD card acts as its own wireless hotspot to allow you to transfer photos and videos to any type of PC, Mac, or mobile device. You can send the content to your device as it is created and instantly view it on your device.
Apps: In order to establish connectivity, it is necessary to download and install the appropriate app for your device. Eyefi apps are readily available on the apps page of the Eyefi website and accommodate iOS, Android, and Kindle devices. The apps are available at no cost when you purchase a Mobi SD card. All you have to do is enter the activation code from the Mobi card to activate the app.
Mobi Desktop Transfer: If you are using a Windows PC or Mac OS X, you can use Eyefi Mobi Desktop Transfer with your Mobi card to transfer photos and videos to your computer. The Windows version requires a PC equipped with Wi-Fi running on Windows 7 or 8. You must have 10MB or more of free space on the hard drive and at least 2GB of Random Access Memory. For Mac OS X, the computer must be running on 10.8 or higher with at least 2GB of RAM and a minimum of 10MB of free space. For both operating systems, it is necessary to uninstall any previous version of the Eyefi Desktop software before installing Mobi Desktop Transfer.
Eyefi Cloud: Eyefi Mobi is designed to work with Eyefi cloud services which allows you to make your photos and videos immediately available for viewing and sharing. The cloud service provides tools for organizing your photos according to date and creating photo albums to share. The Eyefi Cloud service is offered with a 90-day free trial when you purchase a Mobi SD card. More on this service later.
High Performance: Each version of the Mobi SD card is equipped with high performance memory and class 10 speed. This means the card is capable of capturing high definition video, fast action shots, and photos in dimly lit environments.
It is also important to mention that the Mobi SD card 10 digit activation code can be used with as many devices as you want. Additionally, since the Mobi card acts as its own hotspot, you never have to worry about all of your devices being connected to the same network. In fact, it is not even necessary to within range of a wireless access point or router.
The Mobi SD card works with the any older devices that you already own. The card is designed to work with thousands of different cameras, including recent cameras that have been equipped with Eyefi connectivity. You can replace the SD card for any camera with the Eyefi Mobi card to bring an older camera up to date with today's latest photography technologies.
Here is more information on the Mobi SD card.
Eyefi Cloud Services
The Eyefi Cloud is one of Eyefi's newest services and is designed for photographers and hobbyists that use more than one device to store pictures and videos. Eyefi Cloud allows you to capture a photo or video, transfer it to your mobile device, and then upload it to the cloud where it can be accessed by any of your other devices. Some of the features and capabilities of Eyefi cloud include:
Syncing Capability: Eyefi Cloud allows you to sync the service across multiple devices. This makes photos and videos easily accessible, regardless of the device you are using. As you capture photos and videos, Eyefi Cloud works in the background to sync your collection.
Preserve Your Original Photos: You can use Eyefi Cloud to store your original photos for anytime access. Immediately after you capture a photo, the Eyefi app automatically transfers the original image for storage in the Eyefi Cloud.
Use One Account for Multiple Devices: If have multiple cameras and mobile devices you use, you never have to setup a separate cloud account for each one. Instead, you simply use the same Eyefi Cloud account for all devices.
Mobi App: Eyefi Cloud requires the use of the Mobi app which you can download from the Eyefi website or the app store that corresponds with the type of mobile device you are using.
Organize Photos: Eyefi Cloud provides you with a way to easily organize photos, regardless of the device you use to capture them. Additionally, there is a trash folder that allows you to easily retrieve images that you inadvertently put in the trash. When you add tags to your photos, it allows you to easily search and locate the images you are looking for plus, you can arrange photos into albums to make organization easier.
Image Options: Eyefi Cloud provides you with several options for working with images once they are uploaded to your cloud account. When you view an image, you can choose to tag the image, add it to an album, export it, or place it in the trash. If you want to view image details, there is a tool that allows you to expand the photo up to 100 percent. The tagging feature only allows you to tag one photo at a time which can be a drawback if you have photos from a trip or other event that you would like to tag as a batch.
Here is a brief video on using Eyefi Cloud services.
Eyefi Cloud is available as a 90 day free trial when you purchase a Mobi SD card. Once the trial period has expired, the cost for membership is $49.99 per year. Additionally, you can share your photos privately with family and friends without them being required to setup an account with Eyefi.
Eyefi Pro X2
If you are a professional photographer or photo hobbyist that prefers to upload and work with RAW images, the Eyeful Pro X2 card allows you to upload RAW photos to any folder on your PC or Mac. A RAW file is not exactly a photo and instead, is the data that accompanies the image. The data is very similar to the negatives that would often accompany your photos when you got them developed at the corner drugstore. A RAW image contains at least 8 bits of color and is often used for photo editing in applications such as Photoshop.
The Eyeful Pro X2 card allows you to automatically transfer common image and video file types and view them immediately on your PC or Mac device. You can then use photo editing tools such as Adobe Lightroom and Photoshop to work with image enhancements. Similar to the Mobi SD card, the Pro X2 is compatible with almost any camera and offers built-in Wi-Fi for easy file transfer. Some of the features include:
Storage: The Pro X2 offers 16GB of storage and has capabilities that are not present in the Mobi SD card.
Built-In Wi-Fi: Just like the Mobi SD card, the Pro X2 comes equipped with built-in Wi-Fi. This allows you to connect to your PC or Mac without using an existing wireless network. The wireless capabilities kick in whenever you are capturing photos and utilize a unique SSID to make device pairing easier. The Wi-Fi connection uses secure encryption to ensure secure file transfer between your camera and computer. Plus, you can manually turn the Wi-Fi on or off at any time.
Memory: The Pro X2 uses Samsung memory to store more than 8000 images and up to six hours of video. The class 10 speed provides reliable support for high definition video and burst mode. The Pro X2 is also capable of automatically delteing files that have previously been uploaded to provide more storage space when the card has reached its maximum capacity. This feature is known as Endless Memory.
ARM CPU: The ARM CPU feature automatically identifies new photos immediately after you capture them and activates the wireless connection to transfer recent photos to your PC or Mac.
Notifications: The Pro X2 offers a notification tool that forwards a message to your social media account, email, or text application regarding the status of photo uploads.
Price: The cost of the Eyefi Pro X2 card is around $79 depending upon where you make your purchase. The Pro X2 does not work with the Eyefi Cloud service and does not use a 10-digit code to activate the mobile apps.
With its extensive network support-, support for RAW and high definition format, and the "Endless Memory" feature, the Pro X2 card is a useful tool for all photographers.
What's New?
In August of 2014, Eyefi announced the integration of IFTTT with the Eyeful Cloud service. IFTTT stands for If This Then That and automates the processes involved with posting photos and videos to multiple social networking sites. IFTTT simplifies workflow processes and allows Eyefi Cloud users to access the Eyefi Channel. This allows you to create customized collections that easily integrate with more than one hundred other channels including Flickr, Facebook, Dropbox, and Instagram.
The photo collections are known as recipes and provide a way to simultaneously distribute photos to social media sites using tagging. For example, if a photo is tagged social, it is automatically uploaded to social networking sites, as opposed to having to upload each photo separately.
Where to Purchase Eyefi
Eyefi cards are sold in more than 30 countries and are available at many major retailers both offline and online. Some of the retailers include, Amazon, Walmart, Newegg, Best Buy, Proshop, Apple, Eyefi, CamerasDirect, and more.
If you would like to look up retailers according to your specific country, you can access a list of retailers that offer Eyefi SD cards on the Eyefi website.
Conclusion
The main advantage of Eyefi SD cards is they bring modern capabilities to virtually any camera, regardless of its age and adds wireless capability to any camera that offers an SD card slot. If you choose the Pro X2 you have RAW image compatibility with geotagging for photo professionals.
The setup can be a little pricey however, you may find the convenience to be well worth it. But if you are looking for a streamlined wireless experience, it may be worth saving your money to invest in a high end camera with professional features and wireless capability built into the device.