On the high tech frontier of the 21st century where the borders of reality and fantasy blur, gamers and other consumers are obliged to wade through concepts such as virtual reality (VR) and today's topic, augmented reality (AR) aka artificial reality. Are these merely marketing buzzwords or is there really a diffence between them? The answer — Yes, Virginia, there is both a virtual and an augmented Santa Claus and he can be found anywhere, except of course in real life.
Definitions & Concepts
First, let's look at some of the definitions proffered for AR. Readers may recall the comment quoted previously from Sophie Charara of wareable.com who said AR "overlays graphics onto your view of the real world." My blogging colleague "lindsay" of augment.com writes, "AR is a technology that layers computer-generated enhancements atop an existing reality in order to make it more meaningful through the ability to interact with it." The Foundry, a website in the UK, provides a thoughtful characterization — "AR is an overlay of content on the real world, but that content is not anchored to or part of it. The real-world content and the CG (computer generated) content are not able to respond to each other." Illustrating their comment, they note that Swedish retailer IKEA introduced "a table as part of its concept kitchen that suggests recipes based on the ingredients on the table."
Contrast the above descriptions with these for VR. According to "lindsay," VR "is an artificial, computer-generated simulation or recreation of a real life environment or situation. It immerses the user by making them feel like they are experiencing the simulated reality firsthand, primarily by stimulating their vision and hearing." The Foundry says: "Virtual reality is the umbrella term for all immersive experiences, which could be created using purely real-world content, purely synthetic content or a hybrid of both."
One important difference is how AR and VR interacts with the user. VR typically uses a head-mounted display (HMD) to deliver content while AR generally works as an app on a mobile device.
I borrow a quote from tennis legend Martina Navratilova to summate my conception of the distinction between VR and AR: "The difference between involvement (AR) and commitment (VR) is like ham and eggs. The chicken is involved; the pig is committed." In other words, VR is a total user immersion experience whereas AR is an enhancement of existing reality.
Applications
The perception abounds, right or wrong, that VR lends itself to gaming pursuits while AR is based in practical "business" applications. While VR may seem to be more of a 'Tom Swift Jr.' fantasy, limited by only creative engineering (and available technology), AR is commonly used as a informative tool engaging users in "real life" scenarios or to boost productivity in a given occupation or discipline.
Perhaps the best-known AR tool is (was) Google Glass — an optical head-mounted display shaped as a pair of eyeglasses and designed to be a "wearable" computer. Although unveiled to great fanfare just a few years ago, it proved to be "plagued by bugs" and released for public consumption long before its software was perfected. While its use rightly raised numerous privacy concerns, it does have legitimate applications. For example, the Las Vegas-based sandwich shop Capriotti's adopted Google Glass to record employee training videos from a first person viewpoint. It also equipped management trainees with Google Glass during busy periods, using the footage recorded for visual feedback as a means to evaluate and improve performance and service.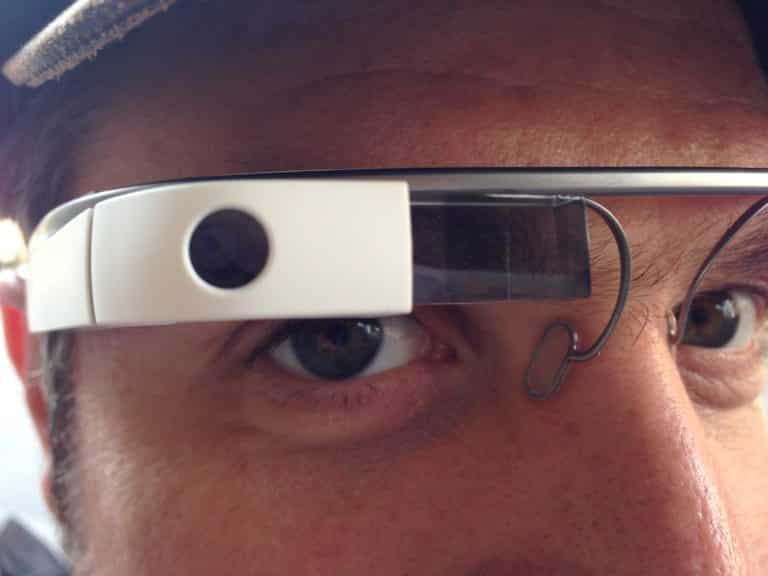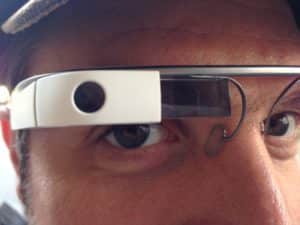 Image Source: Michael Praetorius / Flickr
There are of course more consequential uses for Google Glass than merely tools for sandwich makers. Consider its "proof of concepts" for heathcare. One is Drchrono, an app used for patient consultation or surgery, storing data such as videos, photos and commentary in a patient's electronic medical record or in cloud-based storage to share and collaborate at the patient's request. Google Glass has also harvested images of a patient's retina, a procedure known as "Glass Fundoscopy." Google Glass has also found function in the field of interventional radiology, assisting liver biopsy and fistulaplasty. Its use has shown the potential to heighten patient safety, procedural efficiency and operator comfort.
AR SmartPhone Apps
Thanks to advanced internal hardware like GPS, locations sensors, cameras and gyroscopic compasses found in Androids, iPhones and iPads, using AR apps on mobile devices allows untold utilizations for uses in almost any environment. Most of the information used for AR is sourced from databases in the cloud. Depending upon user preference, AR software selects and prioritizes pertinent information included in the data feed to the device. And as the users' perspective shifts, new data emerges to correlate with new objects that have come into view.
Here is a recent video from You Tech — "The Future of AR," stylized as 'Articulated Naturality Web':
There are three general classifications of AR apps:
3D Viewers, allowing users to insert life-sized three dimensional models into any real-time environment. A practical application would be to find furniture from an online retailer and then see how it would look in your den.
Browsers delivering real-time contextual data to any location a user might be. Let's say you're at the Mall of America in the Twin Cities. By using a mobile device to take images as you walk through the building, "bubbles" start to "float" across its screen, informing you of particulars about the mall's stores — their merchandise, pricing, customer reviews and/or store hours. Or maybe you're interested in the mall's history. You're able to tap into just about any relevant information you want to know.
AR Games are all the rage. Pokémon Go — in case you've been away from planet Earth for the past several months — has been downloaded over 500 million times and is played all across the globe. And there's plenty of other similar GPS-based AR games available for use with mobile devices, like Spec-Trek, Ingress, Resources Game, Landlord Real Estate Tycoon, just to name a few.
Coda
For now, we'll skip another concept related to AR and VR — mixed reality (MR). Let's just say it's a hybrid (and it really is — MR is also called hybrid reality) where synthetic and real-world content react with each other in real time. Gamers, can you imagine a 21st century version of the electrified wire loop game Operation where "surgeons" overlay virtual ultrasound images while conducting medical procedures? 'Cavity Sam' will have more than just a red nose…
Source: boardgamegeek.com
Save
Save
Save
Save
Save