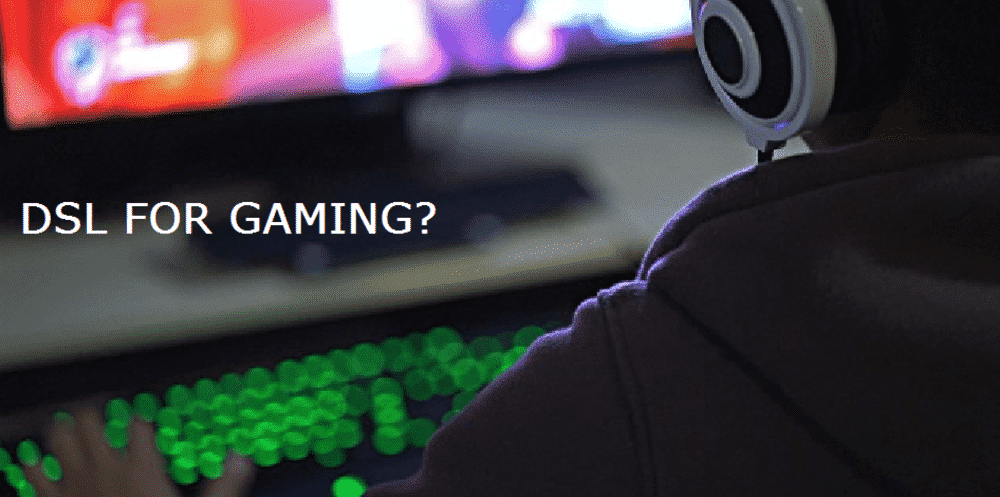 Very few users have claimed that DSL technology is sufficient enough for online gaming. However, it entirely depends upon your Internet Service Provider. In remote areas, where the internet connection is barely available, DSL Internet plays quite a big role. With its wider accessibility and availability, DSL provides stable internet connection across the rural areas. Although, you are recommended to go on a bit of research before opting for any internet connection ISP if you do heavy online gaming just to be on the safer side of the things. While those living in remote areas who hardly have access to fast running internet can have get benefits from the DSL Internet.
Since gaming does not consume a lot of bandwidth, therefore using DSL Internet for online gaming isn't that of a bad idea. However, if you have family consuming on heavier loads on the internet, DSL based Internet might be of some trouble.
For a better understanding of DSL for gaming, we must have adequate knowledge about what DSL is, how does it work, and what does this technology offer, so on.
What Is DSL Internet?
DSL is a short form for the Digital Subscriber Line. It is referred to as a stable connection to the internet. Many people may think of it as "Direct Service Link" which means it establishes a direct and upbeat connection to your internet service provider. Its connection is somehow similar to those of the accompanying internet connections such as AT&T, Windstream, Verizon, Century Link, or other Consolidated Communicating Standards.
DSL uses standards for the telephonic lines to transmit data throughout the homes and business workplaces especially those which are spread through remote locations.
The usual speeds for the DSL Internet vary from 1.5 MB per second to more than 100 MB per second in some particular areas. However, the typical downloading speeds for the DSL internet are 10-20 MBs per second. On the contrary, the uploading speeds are of 1-2 MBs per second in the most commonly available ADSL networks.
DSL Internet Is Cost-Effective For Gaming:
DSL Internet is relatively less expensive than other hi-speed broadband services such as Ethernet connection or other Wi-Fi connections. The uploading and downloading speeds that DSL Internet offer for online gaming might not be sufficient enough as compared to other typically used satellite internet services. However, the stability and accessibility of this type of internet offers are the best of all. DSL Internet is a quote easily available in remotely located regions. Besides, the network latency and ping rate are very low. These two factors greatly facilitate online gaming.
DSL Internet Supports Xbox And PlayStation:
DSL Internet might take long for downloading games that are in Gigabytes. Although, it wouldn't be a bad idea to use it for Xbox gaming and PlayStation as DSL Internet smoothly handles the required speeds for playing them.
Users confirm that the DSL Internet can even use chat headsets with the Xbox live outrage and PlayStation consoles. Although, digitally heavy games can take up hours to download which also depends upon your ISP.
DSL Internet Sufficient For Gaming On PC:
Gamers might get to experience huge network latency and spontaneous lagging with other internet services. However, the good news for users having DSL Internet is that they wouldn't have to encounter latency and lagging with their connection like satellite internet services where facing such issues is normal. DSL Internet has got quite sufficient speeds for online gaming on PC.
Conclusion:
As we have already discussed; for the best gaming experience, pinging and low latency is everything since gaming is one continuous consumption of the internet. When it comes to using even a slow DSL connection, you can have a great gaming experience as long as there is low latency for cutting out the lag.
Though unfortunately, internet service provider plans in terms of bandwidth may vary with ping rate or network latency. Just to be on the safer side of the things, it is quite risky to depend entirely upon the latency. Why? It varies from area to area. At last, if you are a resident of some rural area, DSL internet can be quite facilitative for gaming purposes as it is quite stable and fast besides being super cost-effective.