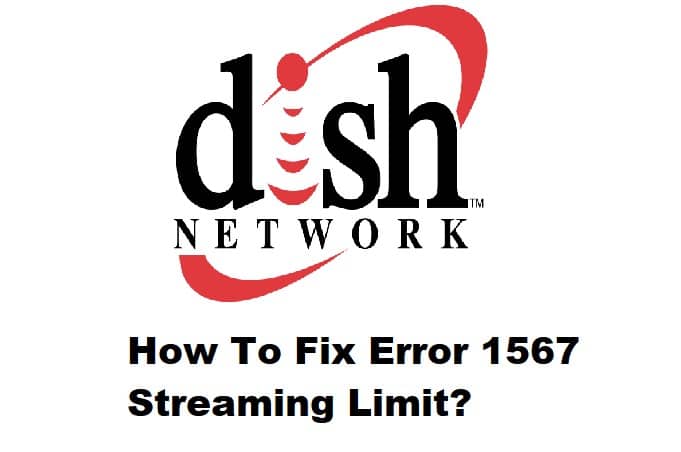 DISH networks are an excellent way to watch a wide range of content on your television that may not be available on cable television. Because the channels are broadcasted via satellite provider, you can also enjoy viewing region-restricted channels.
The ever-increasing demand on the DISH network has made it vulnerable to streaming errors in recent years. Speaking of which, one of the most frequently asked questions is about the DISH error 1567 streaming limit. As a result, in this article, we will go over some steps to resolve this issue.
DISH Error 1567 Streaming Limit- How to Fix
Clear Cache:
This appears to be a very simple troubleshooting step, but it works wonders in resolving DISH network steaming errors. Streaming limit errors are more common when the streaming limit has been exceeded or when multiple streams are running at the same time. Clearing the cache and cookies from your DISH network will assist you in releasing all previous records of your streams and if any stream was running at the back end inadvertently. It will be removed.
Change The Password:
Credentials, a type of authentication, protect your DISH network, ensuring that no unauthorized users gain access to your account. It is possible that an unknown source has your password, or that other people have accessed your account to stream content. When you try to stream content, all of the streaming channels add up, and you get the streaming limit error. Even if this is not the case for you, changing your password will not harm your network. It will assist you in ruling out this possibility. As a result, reset the password for your DISH network and see if the streaming error is resolved.
Restart Your Streaming Device:
Many users use TVs to stream content over the DISH network, while others may use DVR devices or streaming boxes. Because this error is primarily caused by multiple streams running concurrently, there is little you can do with the settings to eliminate it. However, looking into the aides can assist you with this error. Sometimes it's just your streaming device acting strangely. As a result, restart the streaming devices to see if this resolves the issue. Before connecting to the DISH network, double-check your internet connection.
Re-Login To Your DISH Network:
Logging out and back into your DISH network will assist you in resolving any underlying errors or bugs. Do the same with your streaming device and log out of your DISH network. Wait a few minutes before logging in again. Try changing channels or streaming an on-demand movie or television show to see if the error goes away.
Contact Your Provider:
Many users will not go through the trouble of resetting their internet service or streaming device, but troubleshooting at home can save you a lot of time and effort when contacting the DISH provider. If you are fortunate enough to receive a follow-up from the provider, explain your problem and they will assist you in resolving it.