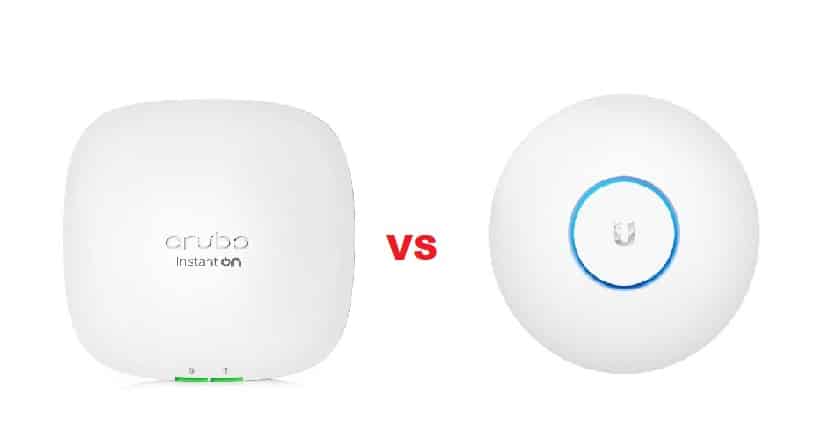 Technical advancements have been accelerating in recent years, causing networking companies to strive harder to provide you with an exceptional networking experience. Ubiquiti and Aruba have both provided excellent networking services, but when compared, either one must come out on top.
Speaking of which, because both companies are competitive in providing high-speed, dependable internet, users have been curious as to which is the better option in terms of performance. As a result, in this article, we will look at a general Aruba AP vs Ubiquiti comparison and compare their performance differences in depth.
Aruba Access Point (AP) vs Ubiquiti Access Point
Ubiquiti Access Point (AP)
An AP's performance is best determined in a high-density environment. In small homes and residential areas, two or three APs are usually used, but in business or enterprise areas where higher capacity is required, the speed may fluctuate if high-quality APs are not used. Ubiquiti APs are generally designed to accommodate residential and small business areas where a larger scope of AP connection is not available. Ubiquiti is a dual-band access point that provides extremely high throughput across both radios. With its MU-MIMO technology, you can connect to multiple clients at the same time, significantly improving the AP's performance and capacity. However, if you are connecting Ubiquiti AP in a high-density environment, its multi-channel radio frequency will help you achieve a smooth data flow among multiple APs.
Extending on the previous point, the Ubiquiti mesh APs can create a layered connection that is both wired and wireless. Even though the APs provide excellent throughput for wireless clients, it also provides excellent data transfer rates over wired connections. The UniFi controller, which manages your network and APs more effectively, allows you to easily monitor and control ubiquity APs. With their latest Wi-Fi 6 technology, these APs are ideal for covering both indoor and outdoor environments. Furthermore, despite their small size, the Nano HD access points can provide filtering and guest control in high-density environments, which is a feature worth purchasing.
Overall, Ubiquiti APs provide excellent performance and scalability at a reasonable cost. They are simple to manage and control, with simple installation procedures. Ubiquiti provides a plug-and-play feature, but configuring VLANs with Ubiquiti APs can be difficult due to connection issues.
Aruba Access Point (AP):
Aruba APs work best in high-density environments. These applications are designed to provide you with maximum performance and smooth data rates throughout your applications. In densely packed environments, you can easily cluster Aruba APs to create a VLAN setup that is more intuitive and functional than what Ubiquiti has to offer. Because Ubiquiti APs can be disrupted if the network is changed, Aruba APs do not. Tunneling is to blame for this. This feature allows VLANs to connect more efficiently while maintaining speed and performance.
In terms of deployment, both the Ubiquiti and Aruba APs are simple to set up and use. However, Aruba APs provide superior network management and control. That being said, Aruba APs, like Ubiquiti, can be monitored with an Aruba controller, but the difference is that unifi controllers are free, whereas Aruba controllers are a paid service. However, with all of the advanced and specialized features that the Aruba controller offers, it is well worth the investment.
When it comes to clustered AP environments, Aruba APs have higher performance ratios. This is what distinguishes the two. Furthermore, Aruba APs have remote monitoring as well as complex data routing features that distinguish them from Ubiquiti APs.
The Final Verdict: Which Is Better – Aruba or Ubiquity?
It is clear from the preceding discussion that Aruba APs are more functional in high-density environments. Both APs deliver excellent performance, but their technological advancements and features distinguish them. Aruba applications are ideal for both residential and commercial applications, whereas Ubiquity can handle both, but in high-density environments, it experiences fluctuations and connection issues when a minor change is made. As a result, if you want a consistent, strong connection regardless of the circumstances, Aruba APs are a worthwhile investment.