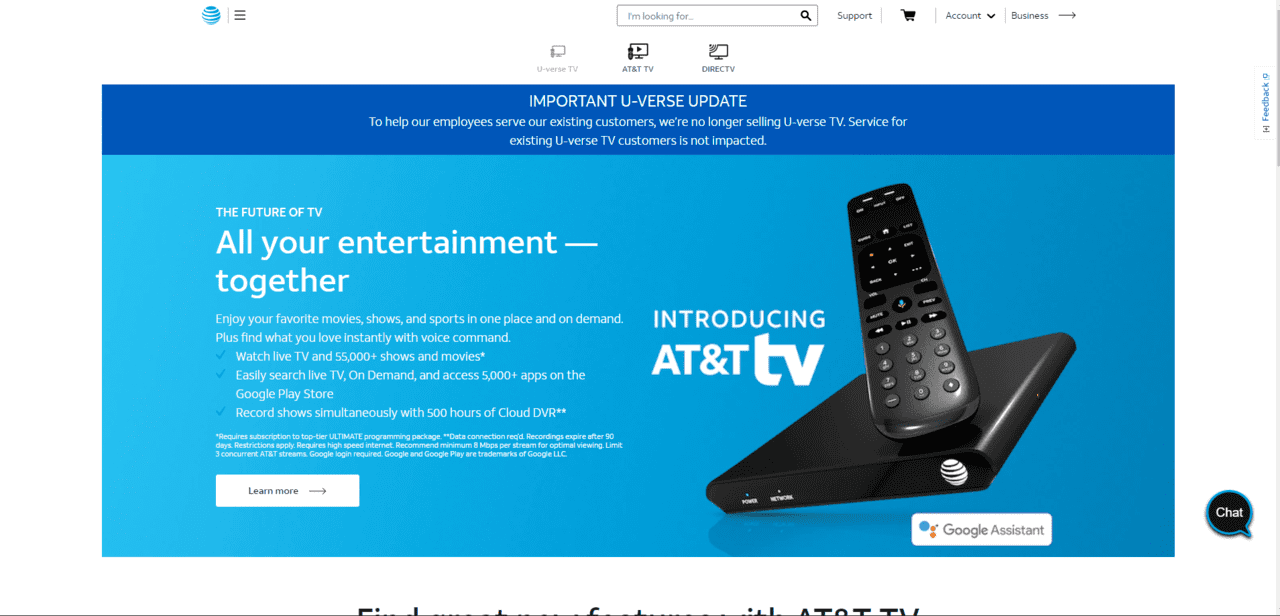 AT&T U-verse was launched on June 26, 2006. It was an AT&T brand of triple-play telecommunications services and was commonly referred to as U-verse. It included an IP telephone which is now AT&T and phone. It also included broadband internet which now known as AT&T Internet or AT&T Fiber. In 48 states, IPTV services were provided known as U-verse TV. AT&T was renamed to "AT&T Internet" and "AT&T Phone" respectively in September 2016 because it was announced that the "U-verse" brand would no longer apply to its broadband and phone services.
What is AT&T Uverse
AT&T is a high-speed internet service that offers loads of services. From live TV to entertainment apps to on-demand options (similar to U-verse TV), you name it! But that is not where it ends. They are offering a lot more new features as well. U-verse Internet is now AT&T internet. There is no doubt when it comes to the reliability of AT&T. It offers high-quality speed and is very suitable if you are looking for the fastest speed for your home.
However, one thing that needs to be kept in mind is that the speed of AT&T internet will depend on the speed available at your address. Internet speeds range from 768k to a 1000Mbps internet connection with AT&T.
AT&T U-verse can advance your TV in many ways. Firstly, AT&T lets you record up to four shows at once on a single DVR and record and playback from any receiver in your home. Secondly, it allows you to schedule, update, or delete your recordings. Not to mention that this can be done from any room in your home.
Thirdly, you can pause your recorded show in one room and pick it up where you left off in another which is very useful.  Moreover, AT&T allows you to fast-forward, and rewind recorded shows on any TV in your home. Lastly, you can easily set Parental Controls for On Demand, Pay Per View, and live or recorded shows.
How Does AT&T Work?
Now, let's talk about how AT&T actually works. Basically, two communication networks are used which are FTTN and FTTP. FFTN stands for fiber to the node and FFTP stands for fiber to the premises. AT&T delivers most U-verse service over an FTTN or FFTP. In the more common FTTN deployment, all the data (internet, IPTV, and voice over IP) is carried by fiber-optic connections between the service provider and a distribution node.
As far as the remaining are concerned, they are run from the node to the network interface device in the customer's home. A copper-wire current loop is used which is traditionally part of the PSTN (public switched telephone network). When we look at recently constructed housing developments, AT&T is using an FTTP deployment. This means that a fiber-optic cable is run from their DSLAM all the way to an optical network terminal in the customer's home.
High-speed digital subscriber lined with ADSL2+ or VDSL technology is used in areas where AT&T deploys U-verse through FTTN. Service offerings are dependent on the central office and the customer's distance to an available port in the distribution node. Moreover, the customer must be less than 3500 feet (1000 meters) from a VRAD in order to qualify for U-verse TV service (only available through VDSL). Also, the VRAD must contain an available port, and it is a must for the copper-wire loop to pass the qualification.
If pair bonding is available, the maximum service distance can extend to 5500 feet (1600 meters). AT&T is also providing high-speed internet through IP-DSLAM ADSL+ in fringe areas. It does not require pair-bonding or a VRAD and operates at slower bitrates than pair-bonded VDSL2.
In practice, VRADs are not installed in many older urban neighborhoods. This is because AT&T prepares to abandon the fixed-line broadband market.
Now let's take an example of televisions and how it is linked with AT&T. Basically, AT&T uses the Ericsson Mediaroom platform to deliver U-verse TV via IPTV from the headend to the consumer's receiver, as required by each TV. Transmissions use digital H.264 (MPEG-4 VAC) encoding, compared to the existing deployments of MPEG-2 codec and the discontinued analog cable TV system.
The receiver box is an IP multicast client that requests the channel or stream desired. However, it does not have an RF tuner. U-verse TV supports up to four to six active streamers at once. This, however, is dependent on the service tier. The system uses individual unicasts for central time shifting, video on demand, start-over services, and other programs.
Your Total Home DVR stores up to 60 minutes of the live TV channel you're watching. That means that when you change channels, it will begin storing the new program instead. AT&T allows you to rewind live TV as mentioned earlier. This can easily be done by pressing REW on your remote while you are watching TV that is connected to your DVR receiver. Now let's suppose you want to freeze live TV for up to 60 minutes.
This can also easily be done by just pressing one button that is the PAUSE button. You can press PLAY to restart. Moreover, you can record the program you are watching from any receiver by pressing RECORD on your remote control. It will begin recording the program you are watching while you sit back and relax. The Record light on your receiver remains lit until recording stops automatically at the program's scheduled end time.
By pressing STOP, you can end a recording whenever you want and then press OK to confirm. When it comes to scheduling programs or series recordings from the guide from any receiver, press GUIDE. After that, use UP/DOWN arrows to scroll to the program you want to record. Press RECORD once to record a single show (one red dot appears); press RECORD twice to record the whole series (three red dots appear); press RECORD three times to cancel the recording.
Furthermore, you can search for a show or series you want to record from any receiver Press MENU, select Live TV, and use the down arrow to select Search. Press OK. Choose Options to narrow your search, or type the show title (use arrows to highlight a letter, then press OK to select it). Highlight the show you want when it appears, and press INFO to record a single episode or the whole series.
Overall, this sums up the description of AT&T U-verse and how it is used.