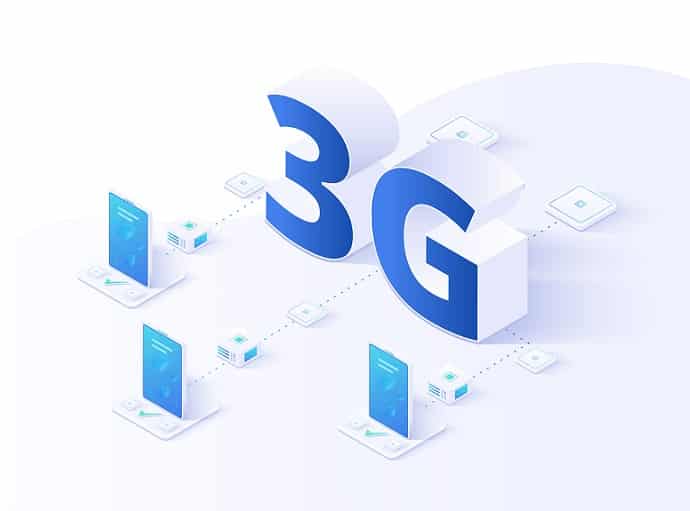 3G Internet is known as third generation Internet technology and is used primarily in smart phones to provide high speed Internet access for use with multimedia applications. It is also used to provide high speed Internet access in laptop PCs.  3G represents a step up from 2G which applies to only voice applications and adds more versatility to mobile phones that allow users to carry their life with them on the go.
Like any other type of Internet connectivity 3G has advantages and disadvantages but fortunately there are more pros to using this type of service than there are cons.  Here is a look at 3G Internet and what it has to offer to smartphone and laptop users.
Portable High Speed Internet Access
Smartphones that are equipped with 3G Internet access have all of the capabilities you need to conduct business or personal tasks on the road.  The high speed connectivity allows mobile device users to video conference, browse the Internet, communicate with others via social media, and download multimedia quickly in addition to enjoying all of the 2G applications except with higher bandwidth.
Most Internet Service Providers also offer 3G data cards and 3G modems to equip your laptop PC with high speed Internet access.  If you have an account with your ISP you can simply insert the data card in your PC or connect the 3G modem via one of the USB ports on your laptop.
Greater Bandwidth
3G provides greater bandwidth on the go which allows mobile device users to access all of the Internet and multimedia applications that you usually access on a desktop PC connected to your home network.  3G bandwidth has much greater transmission capacity than 2G and although you lose some of the bandwidth if you are accessing your mobile device in a moving vehicle it is still much faster than what 2G offers.
Improved Communications
When you use your 3G mobile device to make calls you can see the person that you are talking to and vice versa, provided the other person has 3G connectivity and a device with a web cam.  The high speed broadband connectivity makes videoconferencing easy and efficient and it adds convenience if you are a mobile worker.  You can also use chat more efficiently and update your social networking pages a lot easier due to the higher bandwidth.
Fast Data Transfer Speed
In the past, the rate of data transfer on mobile phones was rather slow making it impossible to use the wide variety of different capabilities that the newer 3G devices offer.  With 3G you can download movies very quickly thanks to the increased rate of data transfer and watch your favorite TV shows on Internet TV.  If you use your mobile device for business documents the files download faster which saves you time and allows you to complete tasks faster.
GPS Navigation
3G Internet also allows you to use your mobile phone as a GPS navigation tool.  Most of the handsets have a map built into the unit that identifies your current location.  The GPS system is capable of providing you with directions from your location to a location that you specify.  Most units are also capable of providing driving directions as well.
'Always On' Technology
3G Internet capability also provides connectivity that is in an 'always on' mode which means that your Internet connection is always available whenever you are ready to use it.  The connectivity is packet-based so you only pay for the Internet connection when you are using it to send information packets such as email or browsing the Web.
3G Costs
The cost of acquiring 3G Internet can be a disadvantage depending upon availability in your location.  The frequency of 3G transmission of course is different so this means that the cellular service provider must install the proper configuration at each base station which can be costly.  The cost of installation is usually passed on to the 3G consumer.  Additionally, the consumer is required to purchase a mobile device that is 3G enabled which is an added expense in addition to paying for 3G service.
In addition to a higher cost, 3G mobile technology also requires more power which means you must use a larger battery to extend usage time.  Users that do not mind this will not see this as a disadvantage and as new technologies emerge there will most likely be an upcoming alternative to using a larger battery.
When you look at the big picture 3G has a lot more advantages than disadvantages and allows you to basically carry your life in your pocket.  Most consumers find that the added expense is well worth the convenience that it offers and provides mobile workers and people who want to use 3G for personal use an easier way to connect with the rest of the world.