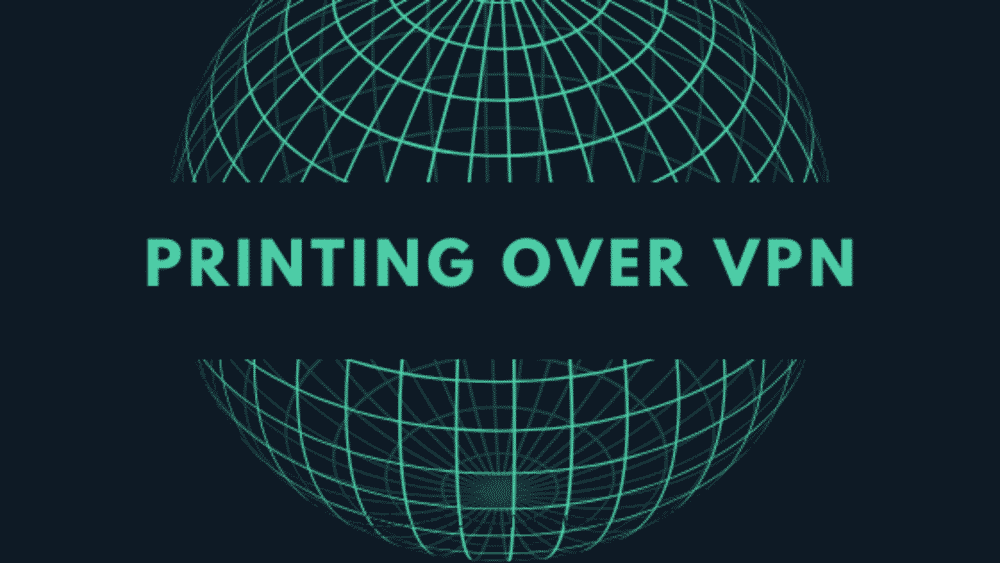 Using a VPN service comes with its own benefits to entertain their devices and have a safe experience of using Internet facilities. But for those who are new to the thought of using a VPN might get confused about how a VPN works and experience some inconveniences. Particularly the issues related to printing over VPN. If you are using a wireless printer then you might have had issues with printing your photos and documents and establishing a connection to the computer when the VPN is working.
This is because when you use a VPN server, all your network traffic is rerouted through some remote network for privacy. Accessing internet services this way provides a better safe and secure connection but prevents your wireless printer from connecting to your computer via using a local network. As a result, you are unable to use your printer for the desired printing job that you brought it for in the first place.
What to do?
Printing your documents and other files remotely is an easy job, whether you want the documents to be printed from a printer that is placed in the room next door or half-way around the globe. Let's learn about some simple ways in which you can easily get your documents printed without your computer is directly connected to the printer.
You're going to learn about the easiest and most frequently used options. You won't need to set up the Internet Printing Protocol (IPP) and allow it to be connected through your firewall or other complicated network configurations. Only some IT Professionals are able to pull those complicated means, instead, you can have a wireless printer.
Why Use a Wireless Printer?
If you're someone who requires a printer for various printing jobs multiple times, you don't have to buy different printers for each computing device. You can simply get a wireless printer and it will solve the issue.
Many new printers that are being marketed are now capable of connecting to the internet services via Wi-Fi. Once connected to Wi-Fi, you can install the suitable driver software on your different computers that let you connect all of them to a single printer over the internet connection.
Troubleshooting Steps for Printing over VPN
Wireless printers allow you to send and print your documents using only the local network. This means that if you wish to print files over the Internet you have to find another way. Using ExpressVPN or CyberGhost VPN or any other good VPN server having the split tunneling feature is a good option. Let's learn more ways to solve this issue.
1. Adjust Your VPN Settings
With some VPNs like NordVPN, connecting your computer to the wireless printer is very simple. You just need to adjust the settings of your devices. If your VPN service allows you to use local network resources in the settings, just switch them on. Once up and working, this option lets you connect your printer with other devices by using your local network and you don't need to disable your VPN.
2. Using the IP Address
If you're using a macOS and you cannot go through with the settings mentioned above, you may get your wireless printer connected and working by using the IP address of your computing devices. Once you've connected your devices via using the IP addresses, your printer status will show as online even with your computer connected to your VPN.
3. Using Router Software
If you haven't connected to your VPN server via the computer software offered by your provider, you might want to reconsider. These standard VPN servers are good for most of the purposes but unfortunately using the wireless printer is not one of them. Such VPN clients are least ideal if you're using some local devices like wireless printers.
Therefore, changing your VPN's router app to some other client may help you printing over a VPN. This happens because whenever you use your VPN services through your Wi-Fi router, all the devices connected to the Wi-Fi connection, including your wireless printer automatically get connected to the same remote VPN server.
4. Split Tunneling Feature
Whenever you access the internet services through your VPN client, all your network traffic is routed via a VPN tunnel. It is basically to provide an extra layer of security but it prevents sending your data information to the remote servers. Ultimately it stops you from printing over VPN.
Therefore, VPNs like ExpressVPN consist of a special feature known as Split tunneling. As the name indicates, this feature is capable of splitting your network traffic into two parts i.e. Private Data that is routed through the VPN and Public Data that is routed locally.
If your VPN client offers the split tunneling feature, you are in luck. You can easily choose which software or applications of your computer or Android smartphone can send data information through the VPN. This helps you to sort out all the software and their data transfer pathways.
5. Use Google Cloud Print
Another option is to bypass all the VPN restrictions to use your wireless printer. For this, no connection is required between your devices. Among all the available remote printing services, Google Cloud Print is obviously the best and most valid option. It is popular as well as easily accessible.
6. Using a Wired Connection
If you are unable to use any of the above-given options, there is a short cut for you. Simply use a wired connection cable to connect your printer to the computer.
Conclusion
There are various different options that make "Printing over VPN" possible. Some of the best and easiest of them are listed above. There are 90% chances that you'll be able to get your desired documents and other files printed easily if you follow these steps one by one and see for yourself which option works best for you.
With so many solutions and fixes available, you're good to go tackle those printing issues for sure. Just keep it in mind that whatever issues you're facing, there's always a number of solutions.