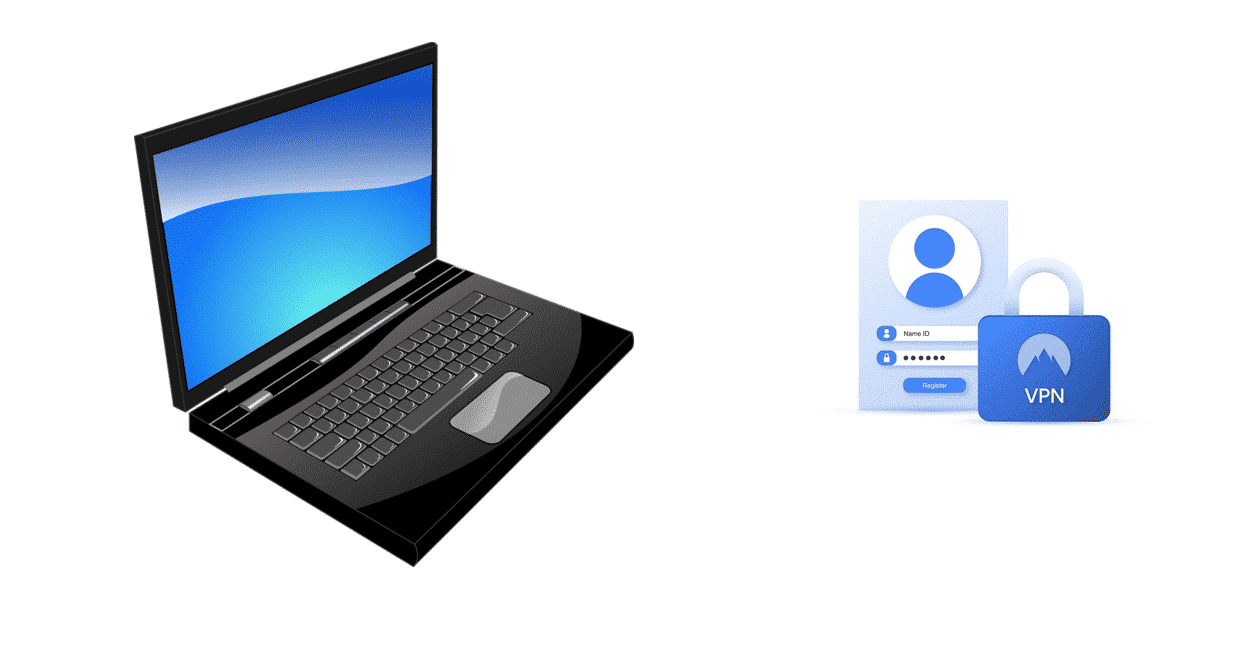 In Malaysia, a developing country, the explicit use of virtual private networks is not discouraged. Malaysia allows its citizens to use VPNs and encourage privacy-friendly steps to be taken for the protection of its residents. However, they do have several internet censorship laws.
Hence, the need for committed VPNs that ensures your privacy and is available on your laptop or PC is evident. A virtual private network is used to mask your internet protocol (IP) and anonymize your internet traffic. It can also be used to bypass geo-restricted content. In this article, we will assist you in choosing the best Malaysia VPN for laptops.
5 Best Malaysia VPN For Laptop Review: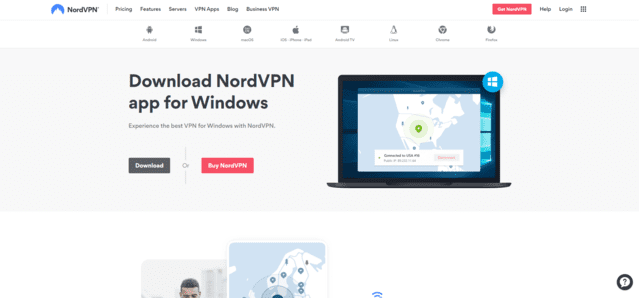 NordVPN is an old virtual private network in this service. It is described as a service that makes your experience – as a user – worthwhile. NordVPN has risen to the top of the VPNs chain through their devotion to their customers and their budget-priced packages to make their service affordable for all. NordVPN operates with more than five thousand and two hundred (5,200+) servers in fifty-eight (58) countries including Malaysia.
NordVPN has 9 servers in Malaysia, however, they do have 125 servers in Singapore with obfuscated servers and P2P sharing available so if the servers in Malaysia lull your speed, then you can the option of connecting to Singapore's servers without a second thought.
If we discuss online security, then you will be happy to know that NordVPN has military-grade encryption with an efficient kill switch along with Domain Name System (DNS) leak protection and Double VPN. With their no-logs policy and a cryptocurrency payment option (payment through bitcoin anonymously), NordVPN is a service that is hard to resist.
NordVPN is readily available for you to use on more than six devices such as iOS, Android, Windows, Linux, and more.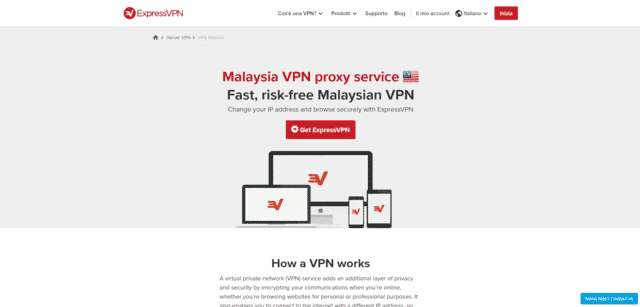 ExpressVPN has a sterling reputation. It is an expensive service, however, the saying; 'You get what you pay for' has never been truer. ExpressVPN's global network operates with more than three thousand (3,000+) servers in ninety-four (94) countries including Malaysia.
Express in the king of security and privacy, to say the least. With its efficient Kill Switch, 256-bit encryption, and DNS leak protection along with your web surfing staying hidden, it is safe to say that ExpressVPN has features that ensure the protection of your privacy.
In addition, a strict no-logs policy combined with their cryptocurrency payment anonymized through Bitcoin is an excellent way to further stay anonymous. ExpressVPN boasts about being the best virtual private network service in the market on its website and for most users, it is completely true.
ExpressVPN allows up to 5 connections at a time and your browsing is safe on your PC or laptops as well due to their Firefox and Chrome extensions. For customer support, Live Chat is available 24/7 with representatives who prove to be quite useful.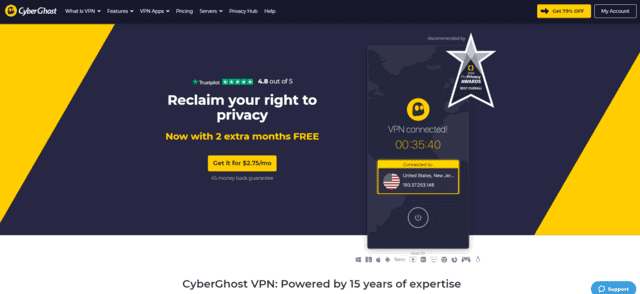 Cyberghost is the perfect virtual private network for beginners. It has a simplistic interface and design. It has the interface of 'one-click access to a secure VPN connection'. The app comes pre-configured for your safe online browsing. It is an easy service to set up and use.
Cyberghost has over six thousand (6,000) servers situated in ninety (90) countries. It has an impressively vast server list collection, however, since Malaysia is a low priority for VPN services thus only ten servers are available in Malaysia.
Cyberghost is incredibly fast and prioritizes your privacy. It has a remarkable Kill Switch with DNS and IPv6 leak protection. With their no-logs policy and acceptance of Bitcoin as payment, they prove that they consider your right to freedom and privacy extremely seriously.
This provider has extensions on Chrome and Firefox as well. It allows up to 7 connections and to several devices such as iOS, Windows, Linux, and Android.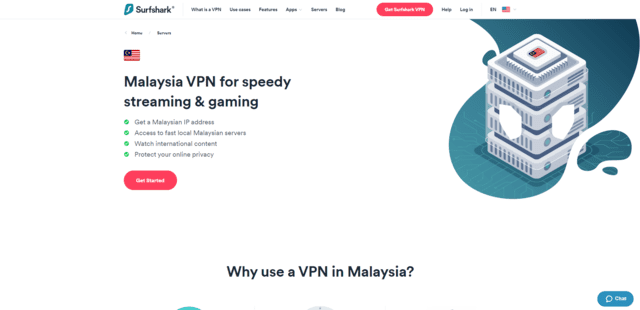 Surfshark is a relatively new virtual private network service since they started publicly offering its service in 2018. It provides a smooth user-friendly experience. It has a strong global network presence. Surfshark operates with more than one thousand and seven-hundred (1,700+) servers in sixty-three (63) countries including Malaysia.
Surfshark has an excellent security protocol. They have a reliable Kill Switch with DNS and IPv6 leak protection. Their highlighted feature is 'Camouflage Mode'. It is a feature that is often praised, as it should be.
They allow P2P sharing as well thus torrenting can be added in the list of pros for Surfshark. Additionally, Surfshark blocks cookies and unnecessary pop-up advertisements. It also has a no-logs policy and accepts payment through Bitcoin similar to the VPNs mentioned above.
Surfshark provides extensions for Chrome, Firefox, and router protection is also something that they offer. App support is excellent due to their availability on several devices such as Linux, Windows, iOS, and Android.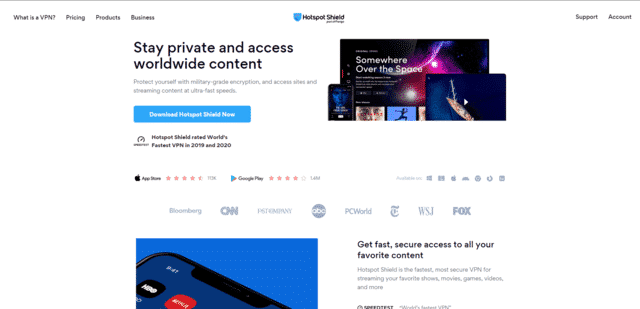 Hotspot Shield is a free service that is available throughout the world and has over six hundred million users and counting. It is, basically, what we would call 'a fan favorite' VPN. It has an extremely simple interface and design.
The app is easy to use and has one click on a button to turn on the VPN design. It offers high-speed connections with protection to your privacy. It consists of the 256-bit encryption with a safe Kill Switch.
Hotspot Shield has a large global network of servers stretched across the globe. It operates over three thousand (3,000+) servers in more than eighty (80) countries. With several servers in Malaysia, it ensures a perfect connection with high security and excellent speed.  It can be accessed with several devices and has a perfect set up for PCs and Laptops.
Choosing The Best Malaysia VPN For Laptop
If you are actively using the internet in Malaysia, then you need an efficient one. The top pick is, of course, ExpressVPN. It is a reliable VPN nonetheless pricey but with their features and top-notch secured privacy, it proves a worthwhile spend. The right VPN is always what the users need.
All of the VPNs mentioned above are suitable for laptop/PC, however, it is up to you to make a perfect choice and choose the best Malaysian VPN for laptop.