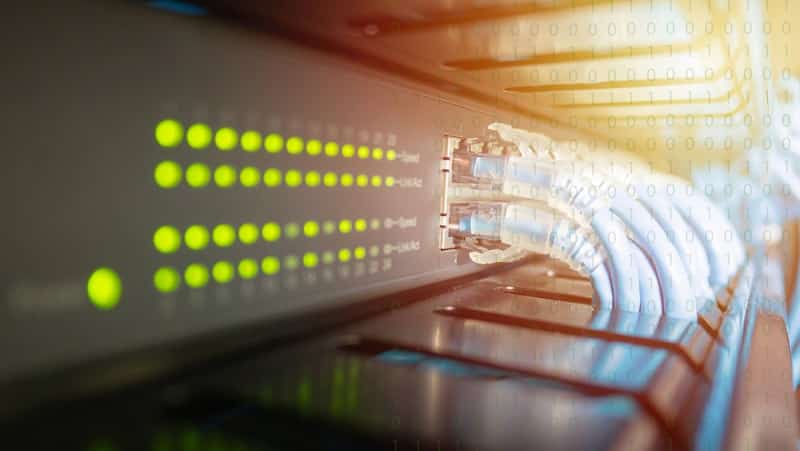 If you are not familiar with gigabit Ethernet it is a new technology that provides a faster connection to the Internet.  Although gigabit Ethernet was originally developed in the 1970s by Xerox Corporation it has since come a long way in providing a faster connection speed with new technologies that are available.
Many enterprises are already using this type of connectivity to help organizations take part in a larger system for sharing information.  The infrastructure allows worldwide systems to connect to hubs which allow computer systems to link to a sizeable global connection.
How Gigabit Ethernet Works
Gigabit Ethernet utilizes a fiber optic connection to transfer data for long distances at a high rate of speed.  When data is transmitted at a short distance it utilizes an existing copper connection.  This type of infrastructure provides a guarantee that all data will be effectively transmitted and all devices connected to the network have gigabit Ethernet capability and are compatible with this type of configuration.
Ethernet vs. Gigabit Ethernet
There is a distinct difference between conventional Ethernet connectivity and gigabit Ethernet.  For example, with conventional Ethernet the connection typically allows for the viewing of up to three movies on DVD at the same time, perhaps a single high definition movie in Blu-ray, and you may be able to transfer data from one PC to the next at approximately one half gigabyte in 60 seconds.
In comparison with conventional Ethernet, gigabit Ethernet can typically handle viewing of up to 30 movies on DVD at the same time, users can view up to ten high definition movies in Blu-ray at the same time, and you can copy data faster from one PC to the next at a capacity of six gigabytes every 60 seconds.
Gigabit Ethernet carries a significant advantage over conventional Ethernet which is also commonly referred to as 100BASETX.  Conventional Ethernet or 100TBASE-TX cannot transmit as much data per minute as gigabit Ethernet.
The rate for conventional Ethernet is twelve megabytes per second whereas gigabit Ethernet is one hundred twenty megabytes per second.  However, gigabit Ethernet gets its name "gigabit" because it actually transmits data at the rate of one gigabit per second which is the equivalent of 120 megabytes,  This point is significant because most IT people think in terms of megabytes and you may see it referred to this way if you do further research on gigabit Ethernet.
Disadvantages of Gigabit Ethernet
Although gigabit Ethernet has a lot to offer in terms of higher connection speeds one of the disadvantages is the cost of the hardware and the fact that it is necessary to replace the entire network infrastructure you are using.  If you are constructing a brand new network and starting from scratch this may or may not present a problem.  You can also opt to gradually install and add hardware that is capable of handling gigabit Ethernet until you switch over entirely to full gigabit Ethernet connectivity.
Key Components of a Gigabit Ethernet Infrastructure
To maximize the speed of gigabit Ethernet all components must be capable of handling this type of connectivity.  The good news is that the components that you use to provide gigabit Ethernet are also compatible with Ethernet despite the fact that Ethernet is a slower connection.  For this reason, you can purchase the components gradually until the entire infrastructure is eventually gigabit Ethernet compatible and running at maximum speed.  Some of the key components include:
Switch: A gigabit Ethernet switch is compatible with any router you may already have in place despite the fact that most manufacturers will tell you that you must purchase a gigabit router for the switch to operate properly.  This is a myth and if you simply purchase the switch you will benefit from the significant cost savings.
Cable: To establish a gigabit Ethernet connection it is necessary to replace existing outdated Ethernet cables.  These cables should be replaced with a CAT 6 Ethernet Cable to ensure you maximize the speed of gigabit Ethernet.  Although a 5E cable will work, using a CAT 6 will prepare the network for routers that will be released in the future with faster speeds.
NIC: It may be necessary to install a network interface card that is gigabit compatible on each PC that is connected to your network.  If you are unsure of whether or not you already have this type of card installed on each PC you can check under Properties in My Computer to see if the card is 10/100/1000.  If this is not indicated then the computer has a conventional Ethernet card and will require replacement to provide gigabit compatibility.
Hopefully, this basic information will provide you with a general understand of gigabit Ethernet and some of the purposes it serves.  It is currently being used by large organizations however; other enterprises and medium-sized businesses are considering this type of connectivity to increase productivity.