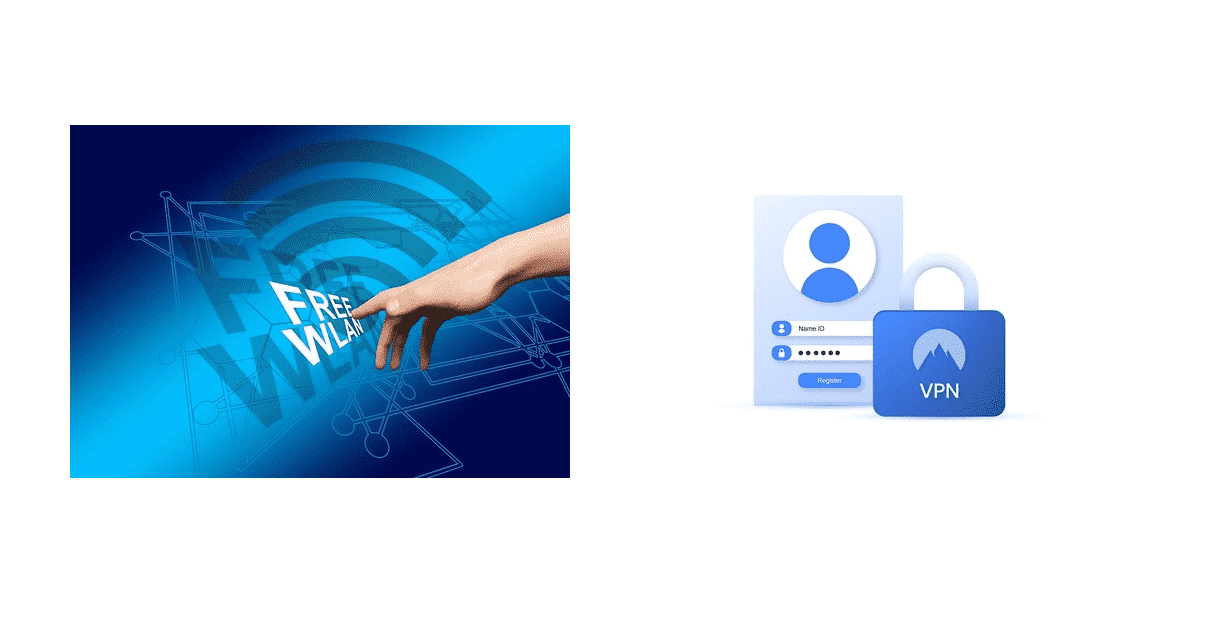 Virtual Private Networks (VPN) are used to mask Internet Protocol (IP) to protect your online activity and identity. This is an efficient way of securing your personal and private data without being exposed to a possible threat. In several countries, they have hotspot WiFi locations available in different areas meant for public use. It is an incredible way of providing internet to those who don't have access to it.
However, you need to be safe since your privacy and security is an important factor that you have to make sure your information does not get misused by any hacker. For that purpose, VPNs are important as they make you anonymous and hide your identity.  In this article, we will discuss the best Singapore VPN apps for free internet.
5 Best Singapore VPN App For Free Internet Review:
1. ExpressVPN
ExpressVPN is the best virtual private network for Singapore. ExpressVPN is considered the gold standard of VPNs. It is unsurpassable. The provider delivers a minimalistic design of the interface with unmatchable service. ExpressVPN's official website states that they have over three thousand (3,000) servers in ninety-four (94) countries.
In addition, they have over one fifty (150) servers in Singapore itself. This many servers in Singapore mean it is possible for local or citizens to access Singaporean TV channels such as StarHub when they are traveling. Now, with such a vast collection of servers from the server list, you are presented with a diverse selection of content.
Since ExpressVPN supports torrenting and P2P sharing, you won't face any trouble when you are trying to gain access to songs, movies, and movies from other countries. You will be grateful for their vast collection of servers for this solely. Additionally, ExpressVPN can unblock Netflix's geo-restricted content without alarming its virtual private network detection algorithm that removes users who are attempting to gain access through a VPN.
When it comes to privacy, ExpressVPN ensures that its users are protected due to their no-logs policy which further means that they are unable to record or view your online activity or history. They took a step further in the name of privacy by allowing their users to pay for ExpressVPN anonymously through Bitcoin.
They deliver another factor that promises protection for your privacy through their exceptional 'kill switch' that halts all traffic if your connection is dropped suddenly. All of these factors are perfect to protect yourself when you are using public WiFi.
2. NordVPN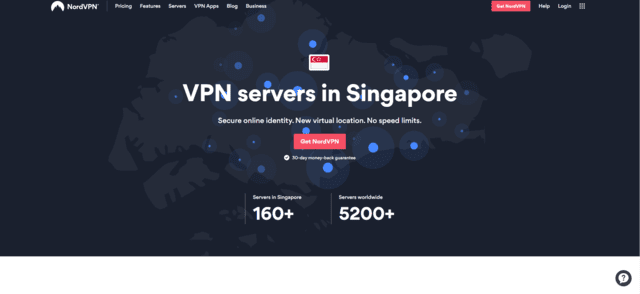 If you've read up on VPNs, then I'm sure that you are aware that NordVPN is a highly recommended VPN for users all around the globe. It is an old VPN that continues to climb the ladder and dominate in the hierarchy of virtual private networks. NordVPN always stands out due to its claims of having the largest server network online.
They have over five thousand (5,000) servers that stretch across sixty-two (62) countries. Out of these five thousand (5,000) servers, around sixty-two (62) is located in Singapore. It is an advantage for Singaporean residents since they can readily gain access to local TV stations.
NordVPN does not lack in security anywhere. They have a feature called Double VPN. In simple words, Double VPN runs your internet protocol (IP) address and your traffic through two (2) different virtual private networks thus presenting double encryption and ensuring that your real IP cannot be detected nor traced. This server has military-grade encryption. In addition, NordVPN offers obfuscation servers that hide VPN usage and can bypass firewalls; The Great Firewall of China.
Additionally, NordVPN supports torrenting and P2P, as well. It is another advantage of using this VPN. It can easily bypass US Netflix's VPN detection algorithm and allow you to access their geo-restricted content with any issue. Their servers are incredibly fast as well which further allows you to stream content in HD.
All of these security measures are suitable for those who use public internet or WiFi. Its only downside is that it is not a beginner-friendly application because it does not just have 'switch' that you can turn on so the VPN starts working. Otherwise, it works pretty well.
3. CyberGhost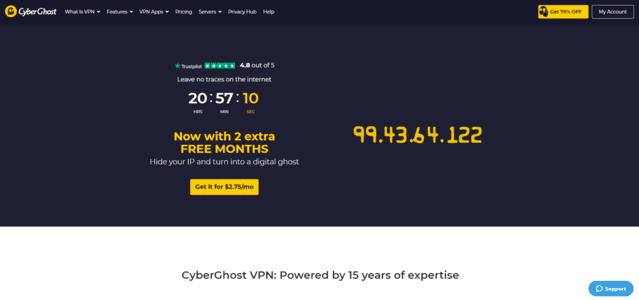 Cyberghost is considered as one of the top VPNs out there. It is excellent at encrypting your internet protocol (IP) to provide you with a fast, secure connection. It is one of the fastest working VPN available in the market. CyberGhost's headquarters is in Romania which is a privacy-friendly country thus being a user of Cyberghost automatically protects you under their jurisdiction.
They have three thousand and nine hundred (3,900) servers around the world; fifty-nine (59) countries. They have forty-eight (48) servers in Singapore alone, once again providing a service for local residents.
Cyberghost has the fastest connections on this list, it also provides a service that is exceptional at protecting you. Their military-grade encryption is something to be thankful for. All worries about data loss should be soothed due to their 256-bit AES encryption on the OpenVPN protocol by default along with 2,048-bit RSA keys and MD5 HMAC authentication. (Source: Cyberghost's Website) Their wonderful kill switch, no bandwidth restrictions, and the ability to block ads just adds onto the list of what they have to offer.
The provider is excellent for torrenting or P2P sharing due to their vast selection of location servers. It can unblock streaming and gaming servers with ease. You can use their Singapore servers to access local content. It has an easy to navigate interface that is user friendly.
Cyberghost is the perfect app for beginners and first time VPN users. Once again, with these top-notch security measures taken by Cyberghost ensure that your privacy and data are protected at all costs. When your identity is secured like this, you are able to use public internet and WiFi without any worries.
4. IPVanish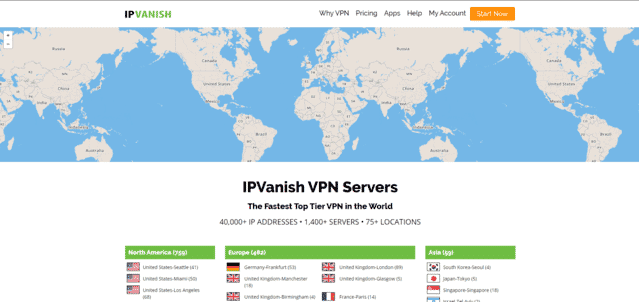 IPVanish is an added layer of protection for VPN users. It provides essential online protection and a few features that are quite rare and are not provided by other virtual private networks. It is a sturdy VPN that delivers fast without any compromise on the encryption quality. It is considered to be a log less service due to their no-logs policy.
They do not save any storage or data related to you or your online browsing. IPVanish owns one thousand and three hundred (1,300) servers stationed around the world. Since they operate servers in more than sixty countries (60) and have eighteen (18) stationed in Singapore alone which further allows locals to utilize them and gain access to Singaporean content.
IPVanish connections are not bandwidth or allow data caps. The provider does not save any personal information unless it is your payment information due to their cryptocurrency situation which makes it vulnerable for leaks and such.
They have plenty of useful features such as a Kill Switch, auto-reconnection in case the connection is suddenly dropped, DNS leak protection. It works well with Netflix and allows several connections simultaneously, and is TOR-compatible.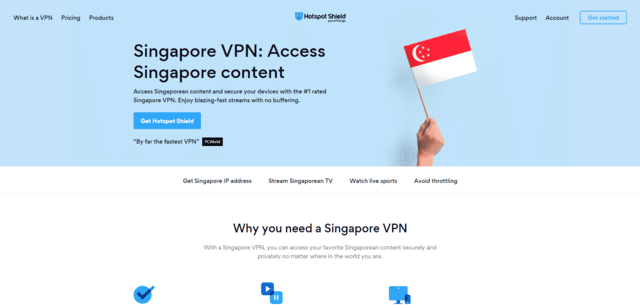 Hotspot shield is one of the most renowned VPNs out there. With over 650 million users, it is a user's favorite. Hotspot shield is separated into two VPNs; a completely free VPN that is available to all and a Hotspot Shield Elite that is basically a premium version with a few more perks. Hotspot Shield operates thirty-two hundred (3,200) servers in more than eighty (80) countries.
However, when we talk about security, Hotspot Shield does not have the best reputation. The provider has been accused of sharing your personal data with third parties regularly along with regular DNS leaks. Your identity and online activity are not completed protect, to say the least. They do have a no-logs policy since according to their website's support page, anything related to you will be related when you're done using their application and service.
They have plenty of servers in Singapore and according to monitoring, there are millions of users accessing those Singaporean servers thus proving this service to be useful for those who are looking for free VPNs to access local content. It is a service with incredibly fast connections and it does not lag at all. You can easily stream in HD without any issues.
It has a simplistic format and interface and it is perfect for beginners. Their application has a 'button' like a trigger that when pressed turns on the virtual private network that makes your traffic go through a tunnel. No one can look inside this tunnel and view your online activity is and neither can they share it. As mentioned before, it is completely free.
Choosing The Best Singapore VPN App For Free Internet
Virtual Private Networks are present to protect their users' privacy while providing them smooth and troublefree internet access and that is what they do. It is evident that ExpressVPN is the best choice for those who want to surf safely whether they're using private networks or public.
It is an efficient VPN that dominates the VPN game which is actually helpful and useful. ExpressVPN ensures protection for your well-deserved privacy and ensures that no third party has your valuable and personal information. ExpressVPN is the Best Singapore VPN for free internet.